Sep 13
1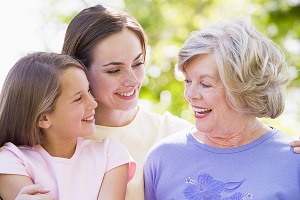 If you are in your 40′s or 50′s and caring for both your children and your parents, welcome to the sandwich generation. About one-third of middle-aged North Americans are part of this so-called sandwich generation and more are expected to join their ranks. From time to time, we all feel like there aren't enough hours in the day. But for the sandwich generation, that's especially true. The stress, guilt and exhaustion that comes from trying to keep so many balls in the air can be overwhelming.
While you're helping your parents and children, don't neglect your own needs. After all, you have to stay healthy and happy in order to provide care. By balancing your own needs with the needs of your parents and children, you'll be in a better position to give loved ones your full attention and deliver the care they require. Here are some coping tips:
Delegate household duties – explain to family members you need them to help out more while you're taking care of your parents, consider hiring people to clean, rake and shovel snow.
Ramp down your work hours – depending on your employer, you may be able to arrange to work from home, take some time off to care for a sick parent or temporarily switch to part-time hours.
Use community resources – your area may have volunteers who provide companionship to the elderly and can even accompany your parents to medical appointments.
Set aside time each day (it can be as little as 15 minutes) to do something you enjoy – for example, go for a leisurely walk in a local park or read a magazine from beginning to end in a cozy coffee shop.
Schedule a weekly "date night" with your spouse so you have time to reconnect, discuss stressful situations and unwind together.
Your attitude and behaviour impact the challenges you will face. Recognize the emotional shifts you need to make as well. Talk to friends who are having similar problems with their parents. Seeing the situation from another perspective can normalize your reactions, help you prioritize the issues and ease the transition. Take note of the changes your family is experiencing. Remain sensitive to what your parents are going through. And come to terms with your own feelings of frustration, anger, sadness or loss. Make sure to share the added responsibilities with siblings if possible.
These can be very stressful times in your life. Rely on your coping strengths to get you through this juggling act. Through acts of kindness you'll bring greater joy and richness into your parents' lives. When you spend intentional time with them relish their appreciation, which you deserve. And savor the power of example that you set as your own children watch how you support their grandparents.
For more articles go to http://finallyfitsystems.lifestyleezine.com