May 09
20
This is your personal invitation to experience the most sophisticated driving technology inNorth America today: the 2009 Acura line-up and the TrackMan®golf swing analyzer, thepersonal choice of Tiger Woods and many other PGA professionals.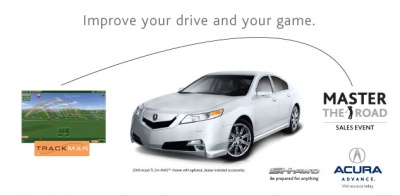 Make your appointment and test-drive the 2009 Acura of your choice. Then join our golf profor a test-swing with the revolutionary TrackMan®, radar-based golf swing analyzer. Our prowill use the data to help you with your swing, advise on selecting the right clubs, and even pickthe right ball for your game. It's a great opportunity to improve both your drive and game.As a loyal Acura customer we are offering you, and any family member living in your household,$1,500 in Acura Loyalty Dollarsto thank you for your ongoing support. Use your Loyalty Dollarsuntil June 30, 2009 toward your purchase or lease of a new 2009 Acura CSX, TSX, TL or RDX model.Acura on Brant isdriving technology…ACURA PREFERRED CLIENT EVENT
Come test drive a 2009 Acura and the TrackMan® golf swing analyzer.
Acura on Brant, June 3
Please call 905-333-4144 to book your test drive and tee time.(refreshments will be served)
For more articles go to http://finallyfitsystems.lifestyleezine.com