Jul 15
1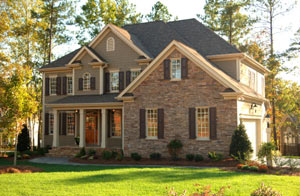 Buying a home is expensive. In fact, for most people it's the biggest purchase they'll ever make. While some costs are unavoidable, it's important to save money wherever you can.

Know your limit
The best place to start is knowing how much you can afford. Of course, the more you can put into a down payment the less your monthly mortgage payments will be, but most buyers still need to finance some portion of their purchase. So, before you start shopping for a home, you'll need to shop for the best mortgage rates and get preapproved by a lender.
Getting preapproved will tell you what price range you can afford, which will save you from wasting time looking at homes that are above your limit. It will also give you a good idea of what your monthly payment might look like, which will keep you from falling in love with a home that would stretch your budget a bit too far.
Hire a pro
Some people try to navigate the complex home-buying process on their own, but it may be best to contact a reputable real estate agent. A good agent will know the market, which means they'll know whether a home is priced appropriately and can help you negotiate a fair price. This can save you a good deal of money and will relieve any worries over whether or not you've overpaid for your home.
If you're concerned about having to pay fees to the agent, their commission typically comes from the sale of the home. This means buyers do not need to pay their real estate agent for helping them find a new home.
Saving after you buy
Once you've found the perfect home and the sellers have accepted your offer, you may have to wait a few weeks or more before you go to settlement and can actually move in. It's a very exciting time, but don't be tempted to run out and purchase all the things you think you might need in your new home.
Hold off on big-ticket items
Your mind may be racing with ideas on how you want to decorate your new home, but it's best to wait until you've actually moved in before buying big-ticket items such as furniture or appliances.
Even if you've taken accurate measurements, it's difficult to plan the layout of a room until you've actually spent some time in the space. Things such as access to doorways, heating or cooling vents, and even how light comes through the windows can influence where you put furniture in a room. If you buy too much ahead of time, you could be stuck with pieces that just don't work.
If the existing appliances are in working order, you should hold off on buying new ones even if you're certain you want to replace them because of the style or color. Appliances are a big expense and it's a good idea to reserve some cash in case of any unforeseen emergency repair or other expense.
For more articles go to http://finallyfitsystems.lifestyleezine.com