Feb 16
1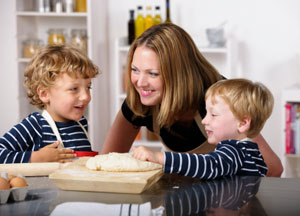 As you hold your newborn baby boy in your arms, it is hard to imagine that one day you will not be the only woman in his life. In fact, you may not even be the most important woman in his life. But, that being said, the mother-son bond can remain unyielding throughout his life.
A mother's love is unconditional, and you will find yourself throughout your son's childhood being the listener and teaching more by example than perhaps the direct, tough love his father has for him.
The lessons a mother gives to her son to one day be a good husband and father begin right away and usually rather indirectly.
Ways to help your son grow to be a good mate:
Always encourage self-expression. Yes, it is okay for little boys to play with dolls or wear pink.
Teach him that experiences are more valuable than material things-Immerse him in the arts, sports, reading, gardening whatever he seems interested in and encourage that interest.
Teach him by example that you and your husband have a mutual respect for one another.
Show him that affection is a sign of strength and not weakness.
Teach your son how to fend for himself when it comes to cooking and cleaning.
Don't always come to the rescue.Let him figure out some of his problems on his own.
Listen to his most outrageous dreams and be there to encourage him.
Let him know how much he is loved.
The most important way in which to prepare your son to be a good husband is to set a good example. Make sure you are working on your relationship and that neither of you is taking the other for granted.
Also, he is picking up on your values even as a very little boy. You may want to ask yourself what is precious to you and convey that to your son; a vacation with family is more important than your new diamond tennis bracelet, for instance.
When you prepare your son for manhood, and if he should choose, marriage, you are also teaching him what the qualities are he should be looking for in a wife (or the mother of your future grandchildren). Of course, you want him to be with as someone as giving and wonderful as he is, and not a prima donna, who thinks he should spend two year's salary on an engagement ring.
Even more importantly, you are strengthening the mother-son bond. The mother-son relationship may have its challenges, but it is one that unbreakable.
For more articles go to http://finallyfitsystems.lifestyleezine.com