Jan 13
1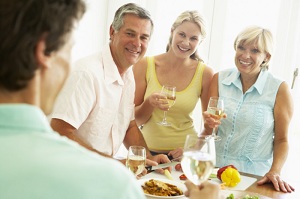 How to Plan a Fuss Free Dinner Party on Short Notice
Whether it is for a holiday dinner that has to be moved to your house, or your kids calling you at the last minute to see if they can come over for dinner, planning a dinner party on short notice can be difficult.To ensure you are able to get everything together in time you'll have a lot to consider, but fortunately there are some tips and tricks you can follow to ensure your party is a hit.
Planning
While you might not have much time to throw this party together, you still need to find some time to plan it out. Whether you've only got a day before the party, or even just a few hours, planning it out will save you time in the long run. Planning a party on short notice is, of course, difficult but it can be done. The following is a brief list of things you need to plan out:
Attendance – How many people will be attending? Without an approximate number you won't be able to properly plan how much food you'll need.
Party Type – Do you want to have a full meal, a pot luck, just a variety of appetizers or something else all together.
Drinks – If this is a party with adults you might want to have some adult beverages available. It could be wine or beer, or you can have mixed drinks available.
Allergies – If there are any known allergies you can avoid them if you plan ahead.
Preparing

Once you've got all the details planned out it is time to start preparing. This starts with making a trip to the store to pick everything you'll need up. Make sure you have a list with you so you don't forget anything. When time is of the essence you don't want to forget anything and have to make a return trip to pick it up.
Once you've got everything you need in the house you can start preparing the food. If possible, it is best to get help since this can be difficult to do on your own. If you can't get anyone to assist then make sure you are making the foods that take the longest first, and then move on to the quicker items.
After cooking, or perhaps during the cooking, you'll have to prepare the house for guests. This means doing some quick cleaning, setting the table, and making sure there are enough seats for everyone. Fortunately cleaning can often be done in between other activities as you have time, so get this done during any spare moments you have available.
PARTY TIME!
Once you've got everything ready and people start showing up, make sure to try to relax and enjoy the party. While every tiny detail might not be perfect, you've accomplished a great deal with only a short time to do it. If you're constantly commenting on the few things you couldn't do, or things that you feel aren't right it could ruin the party for yourself and your guests. Remember, parties are for enjoying so have a great time!
For more articles go to http://finallyfitsystems.lifestyleezine.com