Dec 15
1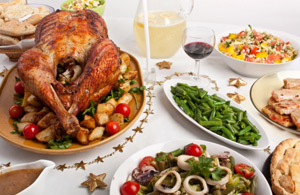 The holidays are a time to celebrate with friends and family. Unfortunately, these gatherings almost always revolve around not-so-diet-friendly food. If you've recently started an exercise program or have been watching your weight, the start of the holiday season may have you a little more on edge than usual.
The good news is there's no need to hide from holiday meals and events, and you don't need to worry about feeling deprived of all of your favorite goodies. With a little planning, you can enjoy the festivities, and the food, without suffering the consequences on the scale.
Work in your workout
Before your schedule becomes overbooked with holiday events, make a commitment to keep up your regular workout routine by putting it on your calendar. If you usually workout four nights per week, then put those four nights on the calendar. If needed, you can reschedule a night to accept an invitation or do some holiday shopping, but having it on your calendar will make you less likely to skip it altogether.
Don't go hungry … or thirsty
Whether you're going to a party or just going shopping, don't head out on an empty stomach. Letting yourself get too hungry will almost always lead to poor food choices. Instead, eat something nutritious before you leave, but also have a plan for while you're out.
If you're shopping, pack a healthy snack to keep your energy up. If you'll be out during meal time, decide ahead where you'll stop to get something healthy to eat. If you wait until you're hungry, you'll be more than tempted by the many unhealthy fast food places you'll likely encounter.
If you're going to a party, packing your own snack might be a bit awkward, but you could bring a healthy appetizer or snack tray as a nice gesture for the host or hostess instead. Load it up with low calorie, high fiber goodies like fresh cut veggies, homemade salsa and hummus.
No matter where you're headed, be sure to drink a lot of water to stay hydrated. Dehydration can drain your energy, making you more inclined to reach for that passing tray of greasy hors d'oeuvres or stop at the nearest soft pretzel stand.
Hosting at home
If you're hosting a holiday gathering, you can keep the menu healthy without disappointing guests with bland and boring diet foods.
For the main course, roast a turkey breast or two instead of a whole turkey. Most of the fat and calories come from the skin and dark meat, so this swap is a huge diet saver.
For side dishes, forget those caloric casserole nightmares. While there may be vegetables buried in there somewhere, the heavy creams and sauces aren't doing anyone's waistline a favor. Instead, choose fresh and flavorful organic vegetable dishes, such as whole green beans lightly dusted with coconut shavings or whole kernel corn mixed with crunchy red bell peppers.
For more articles go to http://finallyfitsystems.lifestyleezine.com