Dec 14
1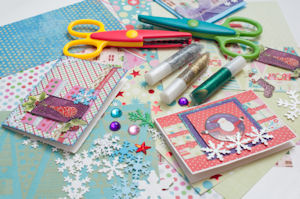 Getting into the Holiday spirit means decorating the house, inside and out. But decorating your place can be a little hard on your pocket. Getting the house ready for the Holidays by purchasing decorations can really start to add up. Wreaths, Ornaments, Trees and Little 'knick-knacks' in every room can break the bank. Take it easy and don't go overboard. Do a little bit here and there and you'll find it will go a long way. There are several things you can do bring the Holiday spirit into your place without having to spend a fortune.
Christmas Close-outs
Check local newspapers often for specials and clearance sales. The sales may only last 2 or 3 days, but you can really save money and get lots of great stuff.
Festive Foraging
Gather some beautiful decorations from nature. Pinecones, acorns and balsam fir tips are great natural decorations. Add a touch of silver or gold spray paint to your gatherings, arrange in a glass bowl with a candle. Fallen green boughs and small pieces of greenery can be collected outdoors or purchase them cheaply in surplus from Christmas tree lots.
Holiday Aromatherapy
Make your home smell warm and welcoming with a mulling spice bag. Combine whole cloves, allspice, cinnamon sticks, and nutmeg with dried orange and lemon peel in a small piece of cheesecloth secured with an elastic. Simmer the spice bag and enjoy the aroma.
Charlie Brown-style
At about half the price of a big tree, smaller ones can be a great way to decorate on a budget. You'll also need fewer lights and ornaments.
Twinkle Lights
Twinkle lights or sometimes called fairy lights deliver some big impact on a small budget. String them across your mantel, twist them around a chandelier or add some sparkle to the bathroom or bedroom.
Re-purpose
Re-purpose some old decorations to look new. If you have any old decorations, or know people who are getting rid of theirs, re-purpose them into a new holiday display. A bunch of old Christmas bulb decorations can be put together to make a beautiful door decoration.
Dollar Stores
Visiting the dollar store will also get you many inexpensive decorations and even some craft supplies to make your own decorations. Set up a Pinterest account or 'google' decoration on a dime for some great DIY ideas.
With a spark of imagination, holiday decorating can be inspired yet inexpensive. Enjoy the holidays while enjoying your beautifully decorated home.
For more articles go to http://finallyfitsystems.lifestyleezine.com